okay...
art adams--
i've loved art's work since the longshot series when he drew one of the coolest looking new characters to come outta marvel in a long time, the wildest aliens, and a she-hulk that was sexier than she had ever been before!
then he was doing the x-men, the x-babies, and mojo! his "creature from the black lagoon" book from dark horse and godzilla! then monkeyman and o'brien! gumby and jonni future and all those awesome jlApes covers for dc!
(just to name a few...)
i have several of his sketchbooks--they are treasures!
when mike and i were dreaming of who we would love to have draw our tellos characters for a special cover, art's name was at the top of the list! and he did it! and it was...gorgeous.
ten years later, as craig and i dreamed of who we'd love to have draw our perhapanauts, art's name was still at the top of the list.
and he did it.
man, did he do it!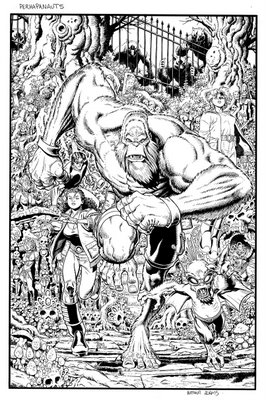 just as with the tellos cover, this is so much more than craig and i could have ever dreamed of!
thanks, art! SO much!
for the stunning cover, for sharing your incredible talent, for being such a nice guy!
~~~~~~~~~~~~~~~~~~~~~~~~~~~~~~~~~~~
johanna draper carlson has this great website called "COMICS WORTH READING", and if you don't already frequent it, you should. i met johanna years ago, when i was just coming in to comics and she was reporting and cavorting at conventions, establishing a relationship with the industry and beginning her career as a comics reviewer and consumer advocate in a business that desperately needed both. she is fair and honest in her reviews and recommendations and always displays the sort of journalistic integrity that is oftimes lacking in the comics community.
johanna is also friend, a person i really enjoy speaking with at conventions and also happens to be married to my pal, kc carlson. but don't let that make you think that that sways her one bit in our favor. though a fan of the 'haps, one of the things i like most about johanna is how direct she will be with me if something falls flat or doesn't work for her. i trust her and consider her comments whenever she and i talk. she's great!
that said, please enjoy her glowing review of the PERHAPANAUTS ANNUAL #1! it's got a minor spoiler or two, so if you haven't read the book yet...WHAT THE HELL...?!
http://comicsworthreading.com/2008/02/05/perhapanauts-annual/
and while you're over there, check out johanna's other reviews and commentary on the site!
you should be checking it everyday!
~~~~~~~~~~~~~~~~~~~~~~~~~~~
and here is your
ALL PERHAPANAUTS EDITION of
"five for friday"
1. according to legend, what was the name of the woman who originally summoned the Jersey Devil?
2. how many werewolves in the Art Adams cover to PERHAPANAUTS #1? (don't look, chump!)
3. big has a scar on his left forearm. how'd he get it?
4. what is the name of the nexus of all time and reality that karl took blue team into in PERHAPANAUTS: Second Chances #4?
5. name the 4 BEDLAM operatives on red team.
a.
b.
c.
d.
have a great weekend!
smell ya later!
todd