okay...
well, today's the day.
go get it.
the all-new PERHAPANAUTS ANNUAL #1 is NOW ON SALE!
and we're officially at IMAGE!--and all is right with the world...
having written it--and especially, having LIVED with it these past few months, putting it together and whatnot--i don't think i have the same anticipation as some of you have. at least, from what you've told me.
i'm very eager to have it out there, to see if it was thrilling. or funny. or scary. or slightly entertaining in any way.
i can't wait to give it to my dad.
and i can't wait to hear what my friends think.
(and, y'know--you
are
my friends.)
~~~~~~~~~~~~~~
i guess that craig and i HAVE had a similar version of that kind of eager anticipation over the past few weeks though, as we've been waiting patiently for our pal and legend, ART ADAMS, to get a chance to finish his cover for perhapanauts #1! if you pay any attention to comics, you'll know that art is a very, very busy artist, as you can see by the number of covers he's been working on lately for marvel! (here's a gorgeous one that matt sent me the other day, just as an example...)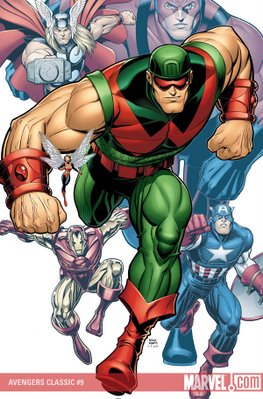 thanks, matt!
and while it's a true thrill for craig and i to see our "kids" drawn by so many talented artists--if you haven't already, check out the galleries to see what i talkin' about--to be able to see big and choopie, mg, arisa, and molly beautifully rendered by art...well, that's what dreams are made of.
so the other night, WE were on the edge of OUR seats when art's cover arrived and...
i'm still quite speechless.
it's...
it's...
> sigh <
stop back here--and/or over at craig's blog-- http://www.craigrousseau.com/blog/index.html --on friday and see the...premiere?...debut...?...unveiling...? of the art adams perhapanauts cover!
also, on friday, johanna draper carlson's review of the annual!
and, hopefully, YOUR review as well!
(leave your comments here or over on the IMAGE boards Perhapanauts Forum...)
and, yes, the return of your "five for friday"...
that's gonna be quite a friday!
smell ya later!
todd
oh, ps: i toldja that craig and i have been doing a LOT of interviews and promotion for the new book and here is yet another interview by calvin mofield over at comic geek news! (that is,
if
you're not completely sick of me by now...) i really had fun this one--calvin didn't ask me a lot of the same old, same old...
http://www.comicgeeknews.com/