okay...
so, in our trying to get everything done on time and create a schedule for the NOW MONTHLY perhapanauts and make sure that guest cover artists knew when we needed their covers in and make sure that we leave rico enough time to work his magic and get pin-ups and back-up stories running for future issues all running simultaneously...
somewhere the release date of PERHAPANAUTS ANNUAL got shifted and craig and i could never figure out exactly how. or why.
there
was
some confusion up at quebecor (the canadian printing company that prints just about every comic book you read) when they had both a perhapanauts
annual
#1 and a perhapanauts #1 (that would be the monthly) on their schedule. (the monthly doesn't begin until april.) and there was also a decision somewhere that having the annual come out more toward the
end
of february would make the wait for the new regular series in april that much shorter.
we don't know.
all we know is--IT'S OUT THIS WEEK, BABY!
if you haven't had it burned into you retinas enough by now, this is what you're looking for: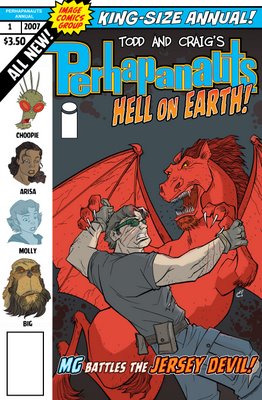 or, like this...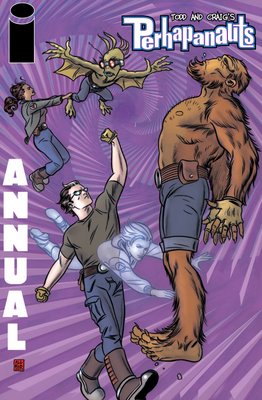 IMAGE has blown out all the stops to promote our little book and get it out there and you can see it advertised all over the place! (i'll try to post a list of sites where you can catch sight of the 'haps on wednesday...)
we've already been reviewed by several on-line sites; i posted roger ash's westfield review the other day and will have johanna draper carlson's from comics worth reading on friday. (there was a spoiler or two and i know how you guys love to be surprised...)
if you're in the mood for an interview, you can find another one with me over at comicmonsters.com
http://www.comicmonsters.com/modules.php?name=Content&pa=showpage&pid=878
and poke around a little bit when you're over there--they've got a lotta creepy things hidden away here and there...
also, this week--as scott so generously posted over on the perhapanauts forum, the latest issue of SPIDER-MAN FAMILY, that's #7 from marvel comics, features a crazy romp of a spidey/fantastic four/looter story that KARL KESEL, MARK WAID, and i did as a fun tribute to mike. it was a story that mike and i had dreamed of doing as a four-issue miniseries a few years ago and when the opportunity came up, i shot it past mark and karl and we laughed and laughed and compressed it into a wild 30-page adventure! get it! you'll like it! it looks like this (sorta...)!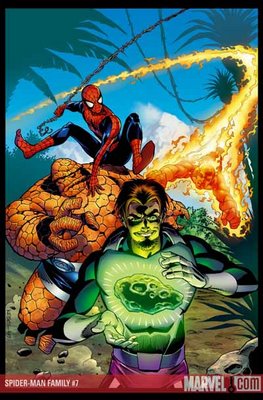 and so, did anybody go and play samorost like i toldja to?
or were you so mad at me for not having a "five for friday" that you didn't go and have some fun out of spite?
if ya went, lemme know whatcha thought.
(and if not, you really should go and give it a look...)
anyway, i gotta get back to it...
have a great presidents day!
smell ya later!
todd