okay...
so, the convention was awesome!
we sold out of both the annual and the first issue, as well as many of the dark horse trades--people were really getting into The PERHAPANAUTS!!
sold a few shirts, a few portfolios, a few trading card one-sheets...
saw ALL of our friends, many of whom you can see below courtesy of photos taken by scott (weinstein).
i got to SEE the pages for scott's upcoming AFTER SCHOOL AGENT #2 and was blown away! (chris is just amazing!)
brian was there most of the time, manning the booth. bill stopped by to keep us in the loop on all on-floor happenings.
saw pablo and joe and his twin brother, mike, and amy and...man, the list just goes on...
my pals, kc carlson and johanna draper carlson came by to help out at the table and at some point that none of us can really say for sure, johanna took the whole thing away from us and became a selling machine, luring con-goers over to the table with her fetching beauty and super sales pitch!
we saw, and got to say hello to, saturday night live's bill hader and 30 rock's scott adsit--two of my favorite guys from two of my favorite shows!
craig and i were interviewed several times while at the show and i'll be dropping those links over the next couple of days--wouldn't want you to od on us all at once...
johanna and kc came back upstate with me sunday night and hung out with sharon and i for a couple days. i was really eager to get back to work too--and post some blogs--when my landlord decided to rip the phone-tv-internet cable up with his back-hoe yesterday morning and strand me incommunicado for a day and a half.
but i'm back and here are a couple pics--as i said, from scott. thanks, scott!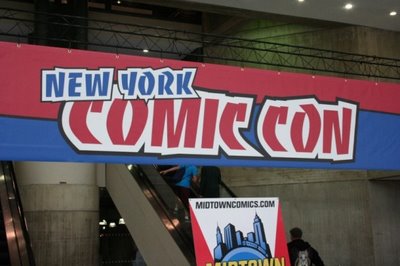 welcome to the new york comiccon!
craig, todd, and rico--the perhapa-boys!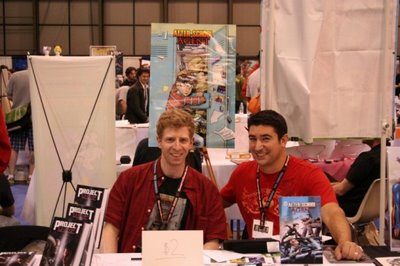 scott and chris at the after school agent booth!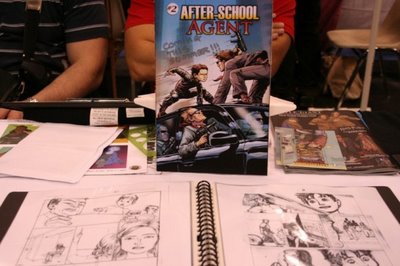 a sneak peak at after school agent #2!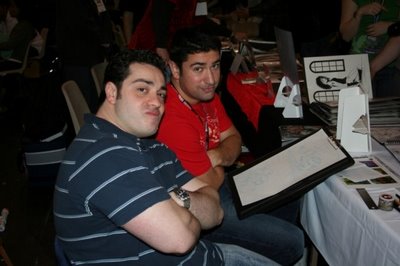 gino and chris (see gino's pin-up of big, karl, and choopie over at the perhapanauts forum/drawing jam!)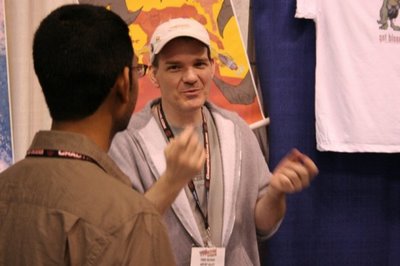 me talking with my hands to wizard on-line reporter, kevin mahadeo (this is just the back of his head, but trust me, he's smiling on the other side...)
here, also, is a link to the interview kevin conducted with me for wizard on-line the week before the show.
http://www.wizarduniverse.com/041508imagespotlight.html
great interview--lots of fun!
thanks, kev!
(but i think i DO sound stupid in phone interviews...)
and if you wanna see some really COOL perhapanauts coverage, check out how the guys from One Shot talk us up here on episode four--doo doo doo doo...
http://www.youtube.com/watch?v=vtSzVA2zEeQ
thanks, tagg! too much!
more con coverage and perhapa-news tomorrow!
(and if you're good, trivia...)
smell ya later!
todd