okay...
as if you're not sick enough of us talking about our stupid comic book...
while at the show, we sat down (well...we already WERE sitting down...) with russ burlingame of COMIC RELATED.com and chatted up the new series. he picked us as "hot shot of the week" and you can even see the whole interview--presented in parts 1 and 2!--either at their website
www.comicrelated.com
or on these marvy youtube posts!
http://www.youtube.com/watch?v=V92Z35W1AuA
http://www.youtube.com/watch?v=6qtHZdNvWqM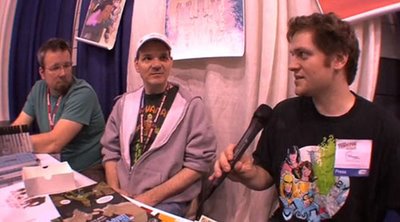 craig, me, and russ burlingame of comic related.com
also, at the show--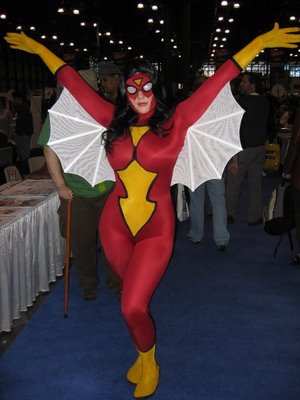 spider-woman!
also, while you're s'posed to be doing work and
nobody's looking...
check out eric sunde's perhapanauts 1 review over at ign
http://comics.ign.com/articles/867/867624p1.html
~~~~~~~~~~~~~~~~~~~~~~~~~~~~~~~~~~~~~~~~
and are you ready?
'cause here are your
"five for friday"
1. who invented scissors?
2. how many bones are there in the human head? 1 7 12 16 22
3. what is michael j. fox's middle name?
4. who invented the modern polygraph (lie detector)?
5. phobias--match the phobia with it's name
a. logophobia fear of heaven
b. demophobia fear of words
c. bogyphobia fear of monsters
d. samhainophobia (for matt) fear of shadows
e. uranophobia fear of halloween
f. teratophobia fear of goblins, demons
g. sciophobia fear of crowds
that's it!
have a great weekend!
smell ya later!
todd
ps--for those of you who have been sending me so many wonderful e-mails about the t-shirts and the trading card one-sheets, we WILL have them up and available in the store section sometime next week! sorry for the delay!
t