okay...
JUST ADDED!
to todd and craig's incredible cross-country all-new, all-different PERHAPANAUTS TOUR!
at the eastwood expo center in niles, ohio!
october 17-19!
i know it's a little early, but mark this on your calendars and get out those hawaiian shirts...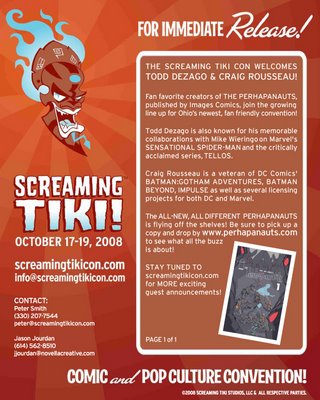 the perhapanauts are going tiki!
for more on the show, check out
http://screamingtikicon.com/
~~~~~~~~~~~~~~~~~~~~~~~~~~~~~~~~~~~
i have great love for dave tata.
craig introduced me to his pal, dave, years ago when craig and i were working on the tellos romp called
the last heist
. dave, craig told me, was an animator with a company called soup to nuts in boston (i had seen their logo somewhere, but couldn't remember where...) and were currently doing a cartoon network adult swim show called
home movies
(slapping his forehead--
that's
where i'd seen it!)
dave, he said, was eager to do a little comic booking and if i ever needed someone to do one of those tellos back-ups or anything...
as it turned out, i needed him right away, and craig and i were thrilled to have dave's work in the same book as our adventure on a fun little story i called "6 1/2". dave did an awesome job and, in the process, turned out to be one of the nicest guys i've ever met.
so when we started thinking about filling out the remaining pages of the new perhapanauts on-going...
dave not only came through for us BIG TIME, but he tackled my little story with all the fun and humor i was looking for.
below, for your enjoyment, is the two page
choopie goes to church
.
inks by bob almond. colors by blake wilkie.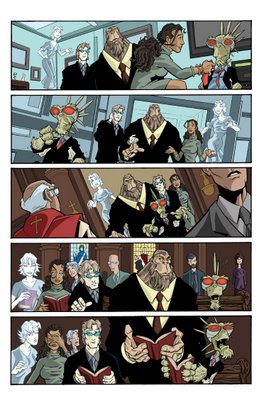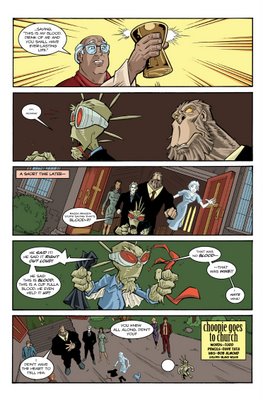 (i'll just note here; it is not meant to offend or be sacriligous in any way, just a confused little kid in church...)
thanks, dave, you're a wonderful artist and a true friend!
you rock the house!
~~~~~~~~~~~~~~~~~~~~~~~~~~~~~~~~~~~
and here, the answers to your
"five for friday"
1. who invented scissors?
leonardo da vinci
2. how many bones are there in the human head? 1 7 12 16 22
22
3. what is michael j. fox's middle name?
andrew
4. who invented the modern polygraph (lie detector)?
william moulton marston
(creator of wonder woman!)
5. phobias--match the phobia with it's name
a. logophobia is a fear of words
b. demophobia is a fear of crowds
c. bogyphobia is a fear of goblins, demons
d. samhainophobia is a fear of halloween
e. uranophobia is a fear of heaven
f. teratophobia is a fear of monsters
g. sciophobia is a fear of shadows
now ya know.
smell ya later!
todd