okay...
just in case you forgot what you should be looking for come wednesday after noon, i've attached these two jpegs for you to print out, clip out, and pin to your chest. then, go to your nearest comic shop, and look for the comics on the rack that match these two pictures! pay for them and your done! it's THAT simple!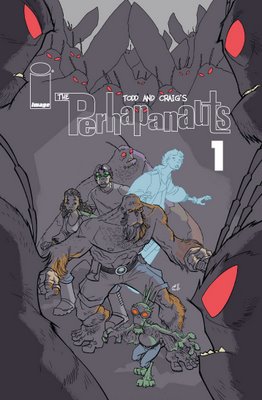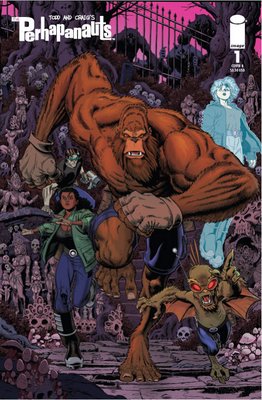 ~~~~~~~~~~~~~~~~~~~~~~~~~~~~~~~~~~~~~~~
big week, this week, as craig and i prepare for the BIG, HUGE, COLOSSAL show in NEW YORK CITY this coming weekend!
we'll be there with all our PERHAPA-SHWAG; the t-shirts, the trading cards, and our #1, premiere issue (if shipping doesn't get screwed up...) of PERHAPANAUTS #1!
we'll be there, as will rico and scott, with his book, AFTER SCHOOL AGENT! if you don't already have a copy, pick one up! and take a look at a sneak preview of issue 2! sweet!
let us know if you're gonna be there!
~~~~~~~~~~~~~~~~~~~~~~~~~~~~~~~~~~~~~~~
hope you had a great weekend!
here are the answer to
your "five for friday!"
1. what actor/comedian has hosted saturday night live the most times?
steve martin
2. who, by his own count, has hosted saturday night live 100 times (because he counts re-runs?)
christopher walken
3. in the rime of the ancient mariner, what dead sea-bird does the mariner wear hung around his neck?
an albatross
4. what ominous public service announcement would begin "it's 10 o'clock, do you know _________ _______ __________ ______?"
"...where your children are?"
5. match the following states with their capitals
a. augusta, maine
b. carson city, nevada
c. olympia, washington
d. montgomery, alabama
e. salem, oregon
gotta run!
smell ya later!
todd