okay...
so there are quite a few movies out there right now that i'm dyin' to see.
DYIN'!
since my mom passed away 2 years ago, most of the movies i go to see are with my dad. and this time of year especially, he's ready to go--'cause, he says, there's nothing on tv. all repeats. so we compare our lists and usually they have most of the same movies on them and, truthfully, i'd go to see anything that he wanted to see 'cause...he's my dad.
so we've seen
iron man
and
indiana jones
and
the hulk
and a couple of others. he knows that i won't get excited about the new batman (god help us and sorry, matt...), and we've been talking up
hancock
and
wanted
. so the other night, wednesday, he said, "we're going to the movies", and sharon and i got excited, 'cause i was sure he was going to say hancock or wanted. but he said wall•e.
now, of course, i wanted to see it--LOVE them pixar guys and they always do some beautiful, wonderful stuff, but i wasn't really there, y'know. i was looking for some action, some fast-paced insanity--and wall•e didn't look like it.
dad said, we can go see hancock tomorrow night--but we play volleyball on thursdays.
so, i adjusted my head for a different experience--not a problem, i'm pretty flexible--and we went to see wall•e
don't miss it.
yes, it might seem a bit slow at first, especially compared to those other two thrill rides i mentioned earlier, and there's not a lot of talking in the first, oh, about half of the movie...but wall•e once again illustrates how incredible pixar really is! the designs and animation, the astounding cinematography (is it called cinematography in cg animation?), the emotions that they can elicit with (supposedly) emotionless robots...! and all in the service of a wonderful--and fun!--story!
on thursday our volleyball got rained out, but too late for us to catch up with dad. the next day, friday the fourth, he told me that he'd gone to see hancock and that he loved it! "we shoulda gone to see that instead! it was incredible! you would've loved it!"
: )
dads.
~~~~~~~~~~~~~~~~~~~~~~~~~~~~
we still have a short stack of
tribute to ringo sketchbooks
available for those of you who are still interested!
the book is yours for a $10 donation (plus $2 postage*) with all proceeds going to the aspca. we've already raised a little over $1000 and it couldn't go to a better cause. it features artwork by a truckload of great artists and also makes a great gift!
for more information, please feel free to 'e' me at todd@perhapanauts.com.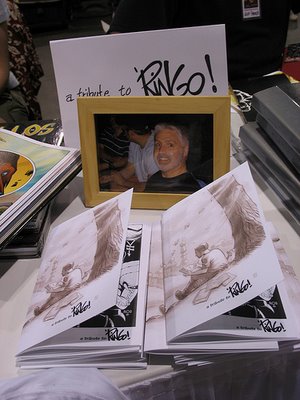 thank you for your kind support.
~~~~~~~~~~~~~~~~~~~~~~~~~~~~
the answers to
"five for friday"
naming names...
1. what were bonnie and clyde's last names?
parker and barrow, respectively
2. what was the name of tim taylor's sidekick on "tool time"?
al borlin
3. what was drew barrymore's character's name in e.t.?
gertie
4. what famous housewife was portrayed by audrey meadows?
alice kramden
5. there have been 5 (five) hosts on the regular version of family feud. name them.
a. richard dawson
b. ray combs
c. louie anderson
d. richard karn
e. john o'hurley
'kay, gotta get to work!
smell ya later!
todd