okay...
SPOILER ALERT!
just wanted you to know that, in my quest to heap tons of praise on all four of our colorists from issue 3, i've posted a double page spread from that issue waaaaaay down at the bottom of this page by rico that just transcends description. it is glorious! so, if you haven't seen it yet (and what's up with that? get out there and get one!) and don't want to, stop at the trivia questions, 'kay?
so let's talk for a moment about our guest colorists, shall we...?
(as i said, i'm saving rico for last...)
first off, we have dean trippe and jason horn on "the merrow's tale", a tender little tale of romance that, personally, i thought kelly outdid himself on. my hope is to make these back-up stories, while contributing in some way to the main storyline or character development, unique, to pair the right artist with the right character with the right colorist. when craig and i talked about this story, craig mentioned dean trippe, whose own work--and comic strip "butterfly"--we had been diggin' on for quite a while. craig had been talking with dean and he was up for it.
here's some of dean's work--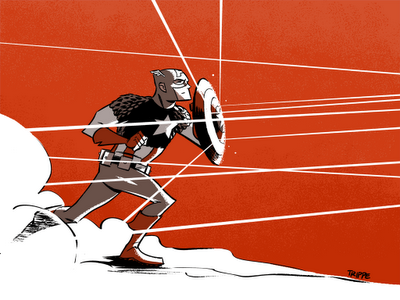 and be sure to check out more--and "butterfly"-- at http://www.deantrippe.com/
jason horn, who assisted dean on the merrow job, i, sadly, knew nothing of, until i had the chance to meet both of them in person at heroescon last month! jason, too has a fine body of work as well with his highly-acclaimed book "gruff"--a comic book re-telling of the
three billy goats gruff
fairy tale--and his strip "ninjasaur"!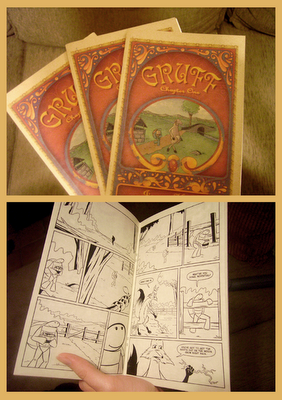 i think that they did some wonderful work on "the merrow's tale", capturing the fantasy elements of the glade in the wood, the soft, yes, romantic, lighting inside the tent, the lush shadows and textures as peter and katherine entwined about each other. beautiful.
rest assured that we'll be seeing more of both these guys in future issues of the perhapanauts! thanks, guys!
when it came time to color tad stones' fun and frantic gremlins story, craig and i wanted someone who could add to that energy without losing all the hilarious details that tad threw in. not an easy job--there is a LOT going on on those pages!! but blake made it look easy! he highlighted the important stuff without dulling the rest and gave the whole thing a crazy cartoon quality that was
exactly
what we were looking for! so thanks, too, to blake wilkie! really nice job! thanks for being part of the team!
~~~~~~~~~~~~~~~~~~~~~~~~~~~~~~~~
the other day my friend wendy sent me this cool video. wendy is a friend from way back in my college days and she and i re-connected, probably about a year ago, through myspace. she quickly became a perhapanauts fan (yea, wendy!) and would 'e' me every once in a while about the latest issue or some weird thing she had heard or read about--she digs the paranormal too! : ) then she gathered up our entire old gang (theater and college newspaper nerds)--well, we're still missing a couple--on facebook a couple months ago and we've been having a virtual reunion ever since. we even got together last weekend for a real live happy hour/reunion (those in the area and those that chanced to make the drive...) it was fantastic!
so wendy will probably be here once in a while and i'll probably be passing on some of the cool links that she sets me up with!
this one is both neat and a little spooky and not just 'cause its' from sean hannity's show--check it out!
http://www.comcast.net/data/fan/html/popup.html?v=799115379
thanks, wendy!
keep 'em comin'!
~~~~~~~~~~~~~~~~~~~~~~~~~~~~~~~~
moments after i posted this blog, i read my mail and got this video from mike estelle (heywood). i loved it so much that i had to run back and include it in today's blog, so that you'll all have it to share and think about over the weekend.
thanks, mike!
http://www.youtube.com/watch?v=adYbFQFXG0U
~~~~~~~~~~~~~~~~~~~~~~~~~~~~~~~~
"five for friday"
1. what was the stage name of hungarian born, ehrich weiss?
2. what is
soylent green
made from?
3. what #1 hit by the police was written as a song about a stalker?
4. what is the name of the new zealand duo who rock the house with their eclectic novelty songs and hbo series?
5. throughout the history of rock & roll, some bands have been fortunate enough to recognized simply by their initials. here are the initials of some bands from the 70's, 80's, and 90's--see how you do...
a. BTO
b. CCR
c. OMD
d. ELP
e. ELO
f. CSNY
g. GnR
h. BOC
and, of course, we have the rico!
i know i've said here rather often that putting together each issue of the perhapanauts is quite a job and we all scramble around to get our various jobs done. we don't make any money at this--hopefully it will all pay off farther down the line, either in the trades or other collections or, if we're really lucky, someone decides that it would make a great animated movie or series...(which, y'know...it would.)
anyway, craig and i work to get the book all done, but, as you know, we have both been fortunate lately to've picked up actual paying work in the business, me on some wolverine and marvel adventures spider-man and craig on spider-man loves mary jane and some dc licensing jobs. these other jobs make it a rush to get the perhapanauts in on time and, sadly, it seems that we're always rushing rico. sorry, pal.
but it
does
get done and rico always brings his 'A' game! we were really rushing him on issue three, but somehow, he was able to produce
this
magic!
when it came through, it honestly took my breath away.
i hope it did yours.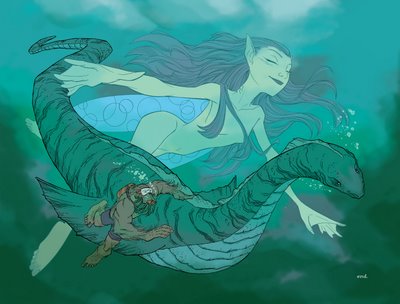 thanks, rico--for issue after issue of awesome colors!
have a great weekend, everybody!
smell ya later!
todd