okay...
so, naturally, my plan for today was to post all of the PERHAPANAUTS "Perfect Cover" Pin-up Contest and announce the winner, but since we were getting so many comments from some very talented artists telling us that they hadn't heard about the contest or didn't have enough time, craig decided that we should extend the deadline to next wednesday and give these people a chance. there were also a few artists who sent in their penciled or inked pieces but wouldn't be able to color them. now you can.
so the game is still on! the winner still gets their pin-up published in a future issue of the perhapanauts. and a perhapanauts t-shirt. and probably a choopie button. and some gum.
so get out your crayons and colored pencils and get to work! there's still plenty of time to do one! get goin'!!!
and since craig "swept the leg, johnny" on me, i really have nothing to post today, but here are a couple of the early penciled versions from a couple of our artists to keep you on the edge of your seats...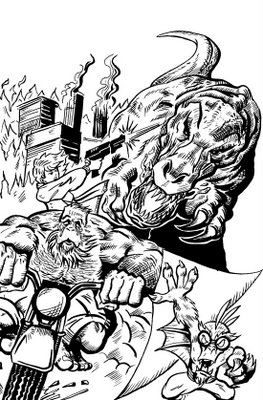 uriel duran's original sketch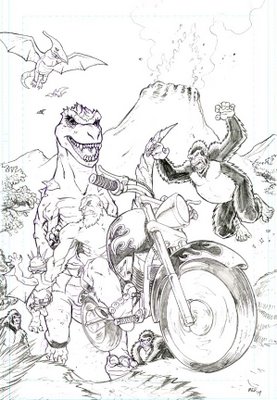 michael kasinger's original sketch
have fun!
~~~~~~~~~~~~~~~~~~~~~~~~~~~~~
the other day i went on about reality shows and whatnot and totally got caught in my own pseudo-rant and lost track of what i had originally wanted to mention. sharon and i have been watching battlestar galactica at craig and jim starlin's urgings and we're just halfway through the second season. i'll admit that, at first, i wasn't finding myself drawn to the characters, but as time's gone on, i'm definitely invested in them and what's going to happen to them. don't tell me.
jake is watching it too, only he calls it "battlactica."
~~~~~~~~~~~~~~~~~~~~~~~~~~~~~
and here are some
"five for friday!"
identify the song and the band that go with these classic rock lyrics.
1. "i got it bad, got it bad, got it bad..."
2. "didn't i, didn't i, didn't i see you cryin'?"
3. "and harry doesn't mind if he doesn't make the scene,
he's got a daytime job, he's doin' alright."
4. "and that jukebox in the corner blastin' out my favorite songs,
the nights are gettin' longer, it won't be long..."
5. "she took the midnight train goin' anywhere..."
bonus: "for all our mutual experience our separate conclusions are the same."
have a great weekend!
smell ya later!
todd