okay...
easy day for me here--
this is the hot-off-the-presses-news that's going out on the wire today!
TELLOS AND PERHAPANAUTS ARRIVE ON THE IPHONE
SMASHOUT LLC is proud to announce the upcoming adaptations of two
amazing all-ages adventure comics, TELLOS and PERHAPANAUTS, to the
iPhone and iPod Touch.
TELLOS is a world populated by mythical and fantastical creatures, by
a rag-tag team of unlikely heroes, thrown together to confront a
darkness that threatens to spread across the countryside like a
plague! Experience the wonders of a world of imagination as the
mysteries of Tellos unfold in each issue. The answers are not what you
think!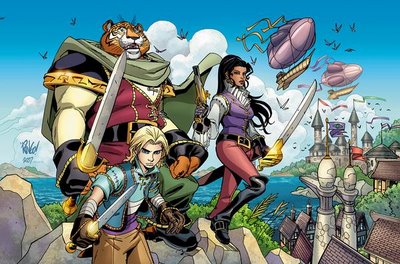 There are places in this world where the fabric of reality has worn
thin, where strange and terrible creatures have crossed over to lurk
in the shadows and the night. There is an organization dedicated to
finding these creatures and sending them back whence they came,
sealing the rift behind them, and maintaining the integrity of those
borders. The organization is called BEDLAM. Its agents are...The
PERHAPANAUTS!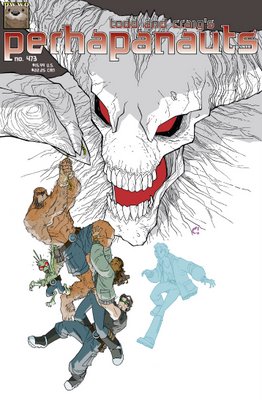 TELLOS is being adapted for the iPhone and iPod Touch with the full
permission and participation of TELLOS series co-creator Todd Dezago
and the estate of its other co-creator, the late Mike Wieringo,
represented by his brother, Matt. PERHAPANAUTS is being adapted with
the permission and participation of co-creators Dezago and Craig
Rousseau.
The first two issues of each title will be available in the iTunes App
Store in July, with the rest to follow soon after. Issue #1 of each
will be free downloads, with the remaining issues at $0.99 each.
"I've been a fan of TELLOS since it launched at Image, and I'm excited
to bring this series to a wider audience," says Steve Horton of
SMASHOUT LLC. "I'm also a fan of PERHAPANAUTS and feel this title
deserves more readers. I couldn't be happier to be a part of this."
"I can tell you now, there was a time, back during the very beginnings
of TELLOS, that Mike and I dreamed that one day people would be able
to read it on their phones," says Todd Dezago, co-creator of TELLOS.
"And not just one issue, the entire TELLOS saga! Hope you all enjoy
it. By thy side!"
Dezago adds:
"Being able to read PERHAPANAUTS on my iPhone is just so
cool to me! I love it! I think we're gonna do a story where Choopie is
reading it--from over your shoulder!! Look now--there he is!! No, your
other shoulder!! Ope--forget it. He's gone."
21.4 million iPhones and 13 million iPod Touches have been sold since
the launch of each product, giving TELLOS and PERHAPANAUTS access to a
massive userbase. Additionally, Apple is expected to announce a new
iPhone or iPhones at the Apple Worldwide Developer's Conference,
taking place June 8-12 in San Francisco.
ABOUT SMASHOUT LLC
SMASHOUT LLC (www.smashout.net) is a new startup devoted to adapting
quality comics to the iPhone with creative and financial participation
of the creators. Titles scheduled for launch in 2009 include TELLOS,
by Todd Dezago and Mike Wieringo; PERHAPANAUTS, by Dezago and Craig
Rousseau; THE MAN CALLED A-X, by Marv Wolfman and Shawn McManus;
FEATHER, by Steve Uy; and OFFCASTES, by Mike Vosburg, with many more
titles on the way.
~~~~~~~~~~~~~~~~~~~~~~~~~~~~~~
The PERHAPANAUTS "Perfect Cover" CONTEST is still in swing!!
get your entries in by 12 pm (est) this wednesday night...!
~~~~~~~~~~~~~~~~~~~~~~~~~~~~~~
and, of course, the
answers to your
"five for friday!"
name 'em!
1. name three people who have played lois lane.
phylis coates, noel neill, margot kidder, teri hatcher, dana delany, kate bosworth, erica durance
2. name three people who have played lex luthor.
lyle talbot, gene hackman, john shea, kevin spacey, michael rosebaum, clancy brown
3. name six people who have played batman.
adam west, michael keaton, val kilmer, gearge clooney, kevin conroy, christian bale
4. name three people who have played anakin skywalker.
hayden christiansen, jake lloyd, sebastian shaw
5. name three people who have played indiana jones.
harrison ford, river phoenix, sean patrick flannery
smell ya later!
todd