okay...
last sunday morning at the con, we took our pal, comics legend nick cardy, out for a father's day breakfast. well, not really out, just downstairs, as the westin has a lovely restaurant in the hotel and a fantastic breakfast/brunch buffet. also, they were nice enough to hook us up with the private area in the back, with the fancy glassed-in room. (which i think is cool!)
nick is an incredible storyteller--if he weren't, my phone bills wouldn't be so huge--and he is easily drawn out by an audience. and we were all so very happy to oblige. nick told stories about his life, his time in europe, in a tank, during world war II, and about his time in comics.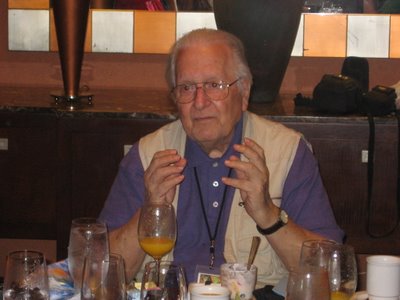 the master.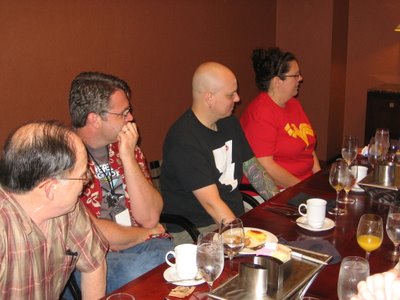 a comics legend himself, joe staton, matt wieringo, christian leaf, suzanne wieringo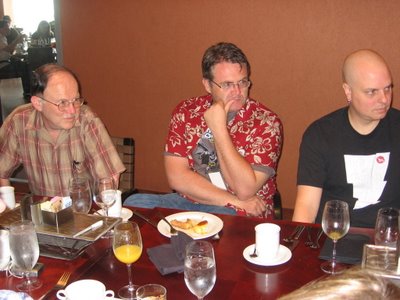 joe, matt, and christian listen to nick's tale of starting out as an assistant tank driver--and accidentally knocking all the troops off with low tree branches.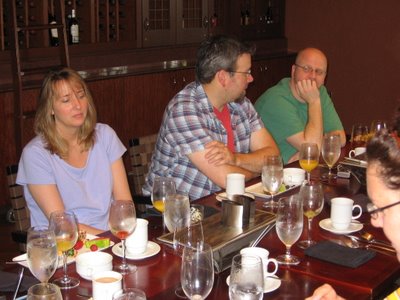 sharon, craig, and cully hamner. sharon's either heard this story before (nick talks to her on the phone a lot too, so it's possible...) or she was up just way too late last night...
~~~~~~~~~~~~~~~~~~~~~~~~~~~~~~
a couple more items i brought home from the show were: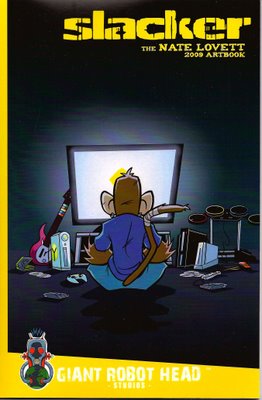 nate lovett's sketchbook/artbook called
slacker
, featuring nate's sweet perhapa-pin-up--seen in the current issue of the perhapanauts, now on sale!!--as well as a few marvel adventures spider-man pages from a story written by moi. it's always cool to see two different artists interpret the same scene--nate did a swingin' job on spidey and the prowler!
and this lovely print from keron grant...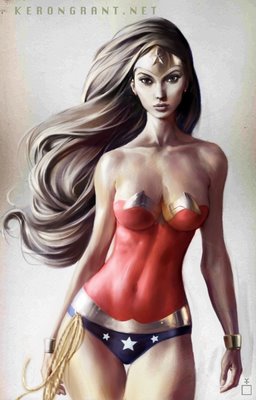 ~~~~~~~~~~~~~~~~~~~~~~~~~~~~~~~~
i love the world of entertainment and pop culture. and i admire and respect quite a number of celebrities. and while i try to keep this blog upbeat and avoid posting about sadness and tragedy, i was saddened by the loss of farrah and michael yesterday. when i hear news like this, it really does feel, if only for a few hours or so, that the world is a little bit emptier.
on facebook, i asked, knowing that celebrities somehow--coincidence? fate? the lining up of the cosmos?--usually go in threes, i asked if david carradine, who died three weeks ago, would be considered part of this trio. three weeks is a long time. i was reminded though, that we lost ed mcmahon just the other day and so, there you go. i was a big johnny and ed fan.
so rest in peace, michael and farrah and ed. and david, too.
and thank you for entertaining us.
~~~~~~~~~~~~~~~~~~~~~~~~~~~~~~~~
the return of the
"five for friday!"
1. what was the name of farrah fawcett-majors' character on
charlie's angels
?
2. which michael jackson music video had him dancing with the bones of the elephant man?
3. what was the name of the weekly television talent show that ed mcmahon hosted from 1983-1995?
4. what was the name of david carradine's character on
kung fu
?
5. name four of the hit tracks off of michael jackson's 1982 album,
thriller
.
that's it!
have a nice weekend!
smell ya later!
todd