okay...
i've been trying to get up each morning and get right to work. or maybe that's 'write to work.' they say that the best time for a writer to get into it, to lose themselves in their own little worlds they create, is right when they wake up, when their minds are still fresh and fuzzy, and as yet untainted by the news or activities of the day. the brain is still coming out of that sleep period, that dream-state, and the imagination is still poised and ready to go...
i find this to be true. for me, anyway...
so i've been trying my best to skip checking my email first thing in the a.m., skip reading the news, the blogs, the facebook posts. but it's hard--we're all information junkies now, aren't we? we don't feel that we've started our day until we've 'checked in' with the internet, our lightning-fast link to the world. okay, maybe you need to do it, for your work or 'cause that's part of your job, but i'm fighting it. i'm going to start a new habit of not logging on until the end of the day, so that i can keep my mind in that 'creative phase' for as long as i can. i did it over this long weekend; got right up, went to work on some perhapanauts and mon5ter 5 stories and didn't let the world in until way after noon. and it was incredible! fantastic! i felt more imaginative, creative, productive...
it was cool.
and so, the reason i'm really writing this--or you might think 'wasting your time with this' (i hope not)--is that our little family here is
full
of talented and creative people, and i'm suggesting you do a little experiment of your own. take a few hours each morning on some upcoming weekend (maybe this will have to wait until after the holidays for some...) and try writing or drawing or painting or whatever you do to express yourself before you let the world in, before you open yourself up to the news of the day, before you're even really awake. try it and see what happens.
i think you'll be amazed...
~~~~~~~~~~~~~~~~~~~~~~~~~~~~~~~~
and the roll continues...
alison sent me this the other day.
amazing! can you guess what this picture is made from?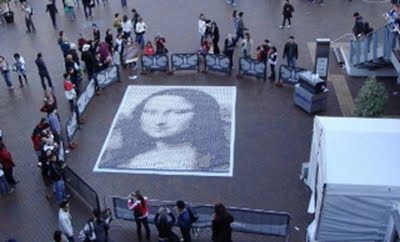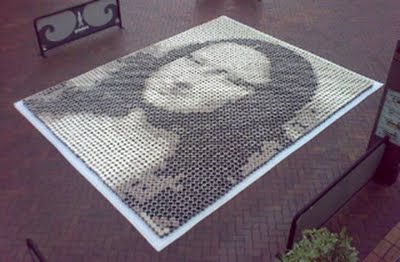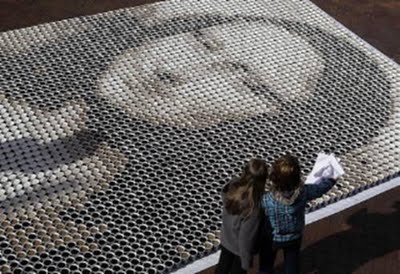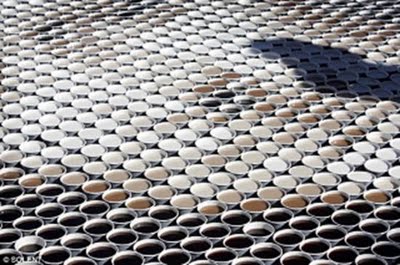 Artist assistants stand next to 3,604 cups of coffee which have been made into a giant Mona Lisa in Sydney , Australia . The 3,604 cups of coffee were each filled with different amounts of milk to create the different shades!
~~~~~~~~~~~~~~~~~~~~~~~~~~~~~~~~
and the
answers
to your
"five for friday!"
three-fers
1. name three robins.
dick grayson, jason todd, tim drake, carrie kelly, stephanie brown, damian wayne
2. name three of the original defenders.
dr.strange, the hulk, silver surfer, prince namor, the sub-mariner
3. name three of the justice league's headquarters.
the cave at happy harbor, rhode island, the justice league satellite, the detroit bunker, the un, the watchtower
4. name three of hank pym's various alter-egos.
ant man, giant man, goliath, yellow jacket
5. name three of the traditional (over-sized) souvenirs that are usually depicted in batman's batcave.
giant penny, giant joker card, jason todd's robin costume, dinosaur
that's it for now!
have a great monday!
smell ya later!
todd