okay...
i know that i've been preaching to everyone who'll listen that we've got to make summer last, got to make sure we pack this (fleeting) summer with as much summery fun as we can because--around here anyway--winter is long and cold and dark... (actually, i love the cold and dark part--it's the "long" that gets to be too much...)
i got angry at nic (portal comics) a week or so back when he said he felt a giddy delight when he saw the staples back-to-school, most wonderful time of the year commercial. sorry, nic, but as a never-grow-up toys r us kid, even here as a supposed adult, the words "back-to-school" are still a poisonous curse to me and they, more than anything, mean the death of summer! craig, of course, quickly pointed out that i don't have kids and so i wouldn't get it. he loves that commercial too...!
(traitors!)
but the nights are already getting chilly here and it IS time to start thinkin' about what you're gonna be for halloween--whatcha gonna be?!?--and a & e has started a new season of
paranormal state
. and while i still want summer to hang on for a few more weeks (months?), a couple other things have been tugging me toward the season of spooks and chills--
last week i picked up the showcase house of secrets and have truly devoured it! on the cover it proclaims "over 500 pages of comics!" is that all? i could eat that in one sitting when it's these wonderfully chilling, gothic (yes, on some "dated" would be a better term...) stories by some of the most talented writers and artists back in the early 70's! bernie wrightson, gerry conway, len wein, mike kaluta, alex toth, steve skeates, nick cardy, john albano, tony dezuniga, and jim aparo! maybe they appeal to me because, though they were actually before MY time too, they resonate with a feeling of the day, they reflect all of what was happening in comics--and the world--at the time! i love 'em!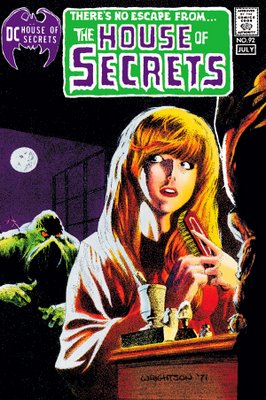 also getting me cranked up for fall creepiness, is the book
weird hauntings
, sent to me by my pal, mike estelle, who even got it signed for me by awesome artist, ryan doan! thanks mike! you shouldna.
weird hauntings is put out by the
weird nj
people, the magazine that has spawned a great series of weird books chronicling weird places and events in many of these united states (weird new york, weird pennsylvania, weird new england, weird usa,...you get the idea...) it's a great book with a great many first hand accounts of some really creepy places. and ryan has created some really great photos/illustrations/paintings for many of the stories! great stuff! thanks again, mike!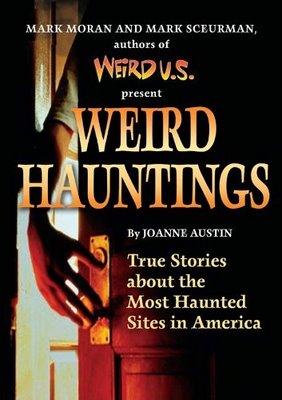 so while i'll hang onto this summer with the last of my strength, start letting a little creepy into your schedule. wendy, who has just recently joined out little family here, was just asking me if I'D ever seen something strange, which made me realize that we ought to have a round of sharing our own personal weird and creepy experiences again. anybody up for that? if you have a strange or scary story to share, send it over to me at todd@perhapanauts,com and i'll post it up here on the blog. i know we've heard from a lot of you before, but let's dig 'em out and scare each other again. you could even cut and paste them from last time. this could be lots of fun.
and i now know that wendy's got one...
think about it.
smell ya later!
todd