okay...
i don't think that's it's any secret that i am a frustrated artist. as a kid i was drawing all the time and dreamed of one day being as good as my heroes; neal adams, jim aparo, and, yes, nick cardy! i began college in a graphics art program but was soon swayed over to (my deeper, secret, desire) theater and acting. i've tried to study and work at drawing on the side, but over the past 20 years or so, there really hasn't been at that much "on the side" time. and i was never really that dedicated a student anyway. that's why i am in such awe and so appreciative of my friends and all the great artists i get to meet and work with in this business!
it's both envy and wonder on my part.
so i still draw/paint my christmas cards each year (which, now that i have a nice scanner these days, i will share with you when the holidays roll around) and i do illustrations for friends; birthday cards, band posters, etc.
i've known my friend, paul, my whole life. went to elementary and high school with him and am happy to say we still get a chance to get together and hang out once in a while. he's a prison guard now, pretty high ranking from what i understand (paul's pretty modest), and each year he asks me if i'll design a t-shirt for their annual summer-fling bar-b-que. last year it was a pig roast, the year before that i think chicken. this year was a beef bar-b-que and though paul asked me way back in june, i've been so busy that it totally slipped my mind. he called saturday to remind me that it was due...in an HOUR!!!
so i did this in an hour.
i hate the colors.
i woulda done so many things differently.
but here it is.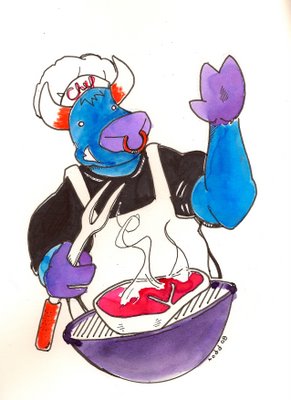 ~~~~~~~~~~~~~~~~~~~~~~~~~~~~~~~~
here's an awesome pic of the aurora borealis reflected on the water...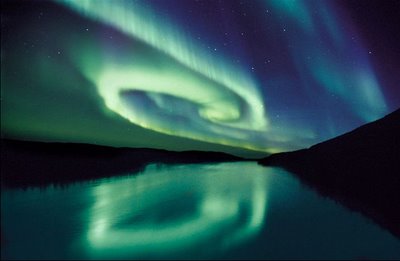 ~~~~~~~~~~~~~~~~~~~~~~~~~~~~~~~~
and here are the
answers to the
"five for friday"
1. who wrote and directed the classic
night of the living dead
?
george a. romero
2. who wrote and starred in the zom-com
shawn of the dead
?
simon pegg and nick frost
3. what character did stephen king play in the mini-series adaptation of his best-selling novel, the stand?
teddy weizak
(and, yes, christian--after seeing him play jordy verrill in
creepshow
, i woulda loved to see steve play tom cullen. m-o-o-n spells stephen king...)
4. what award-winning make-up effects legend provided the splatterrific gore for
dawn of the dead
and
day of the dead
?
tom savini
5. pets
a. what was the name of ross' pet monkey on
friends
?
marcel
b. what was the nickname the crew gave the giant mechanical shark on the set of
jaws
?
bruce
c. what was meredith and derek's dog's name on
grey's anatomy
?
doc
d. what was the name of the cat that alf was always eager to eat on
alf
?
lucky
e. what was the name of the partridge family's dog?
simone
smell ya later!
todd