okay...
so, no secret, i love trivia.
i will find myself going through phases of trying to watch a lot of trivia-based game shows, mostly fast-paced ones, rapid-fire questions. jeopardy, win be stein's money, etc. last winter sharon and i found ourselves preparing and eating dinner with the discovery channel's
cash cab
on at 6 and then over to the game show network at seven for reruns of the ann robinson hosted
weakest link
. while the range of questions on
link
ran from difficult to duh, the
cash cab
usually had a steady stream of questions to get you thinking.
they changed
link's
time slot back in the spring, but i think we had already caught the entire run and were starting on reruns of the reruns (i'm VERY good at those...! : )
if i'm done with work early enough, i'll still put on
cash cab
.
and being that i go into the big apple from time to time, i always have my eye out hoping that i might see the cash cab rolling down the street.
my fantasy goes like this; i'm in the city hanging out with scott for the day or the weekend or something and we gotta catch a cab. i wanna show scott that i know how to do this and i put up my hand. and who pulls up but ben bailey in the
CASH CAB!!
! we're both pretty observant and so we both notice at the same time, but we also know to play it cool, play it down, act like we don't know. i furtively ask scott what the farthest fare would be (so we have the longest ride to wrack up the most money!) we get in and tell him 125th street (we were in the village--i dunno what we were doin' there...) all casual-like and like we don't know. we act real dumb. the disco lights go off and we act surprised and ben tells us we're in "the cash cab--the game show that takes place right here in my taxi!" and we tell him "ben, we're about to beat your ass up!"
'cause scott and i are the $#!& when it comes to trivia.
somehow we win $4,862, which is unprecedented and weird, and there aren't even any comic book or
saturday night live
questions. we've broken all of the
cash cab
records--and the bank!--and ben tells us he's done for the day so we take him out to dinner with our crazy winnings 'cause he is easily the nicest game show host ever!! we even take a cab back to 42nd street to take him to virgil's for the best bar-b-que in new york and grill the cabbie with trivia that he can't answer along the way. he's a nice guy though and i tip him $50 and then scott says that maybe
he'd
better hang onto the money for now.
people hear about scott and my amazing trivia abilities and we start training for the u.s. olympic trivia team for the 2012 olympics where, because this is still my fantasy, it's an event and we destroy the competition, even when the questions are about
their own
countries!
we bring home the gold.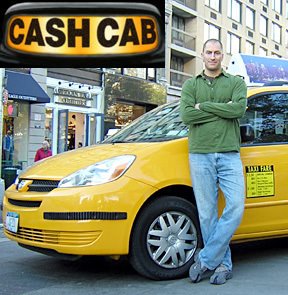 ~~~~~~~~~~~~~~~~~~~~~~~~~~~~~~~~~
that's my fantasy, well...ONE of them...
anybody wanna share theirs...?
~~~~~~~~~~~~~~~~~~~~~~~~~~~~~~~~~
here are some of the
questions we kicked
ass on...
"five for friday"
1. what former boxer and sportswriter hosted a sunday evening variety hour for 24 years?
2. in it's original incarnation, who was the host of
jeopardy
?
3. creator of
the dating game
and t
he newlywed game
, and creator/host of
the gong sho
w, chuck barris also claimed to be working for who?
4. what city was buried under ash and debris after the eruption of mount vesuvius?
5. what is the only marsupial indigenous to north america?
have a great weekend!
smell ya later!
todd