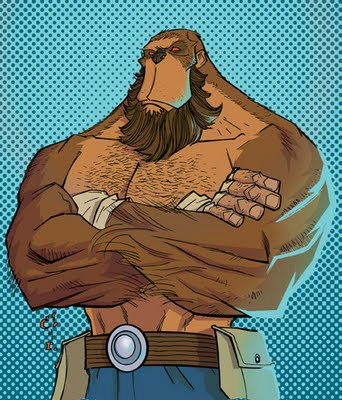 bigfoot sasquatch
okay...
does everybody know that you can download (and read) the celebrated PERHAPANAUTS ANNUAL for FREE off the perhapanauts website?!? it's true! the PERHAPANAUTS ANNUAL--our very first issue under the ever-popular IMAGE COMICS banner--is yours for the taking at www.perhapanauts.com it's right over there --->
got nothing to do this weekend...? why not settle in for a crazy adventure with some of cryptozoology's craziest creatures? there's a bigfoot, a chupacabra, a mothman, and the jersey devil!!
check it out--i dare ya!
~~~~~~~~~~~~~~~~~~~~~~~~~~~~~~
i came in from volleyball late last night to find our pal, warren's comment to wednesday's post and his closing line (which i know is and has been echoed by so many comics fans for so many years...)
"Why can't they just put out comics that tell fun, dramatic, compelling stories, and get over their big events?"
and the answer is--'cause we keep buyin' 'em, baby.
your dollar is your voice and we (the comics buying/reading public) just keeps saying "yes! hell, yes! bring it on!"
they know we're addicted to the characters, know that they have us all strung out, and they know that we'll never have
too much
...
(that is, of course, until they legalize comics and the government takes over...
)
sorry.
(stepping off my soapbox now...)
~~~~~~~~~~~~~~~~~~~~~~~~~~~~~~~~
well, it's a little over a month away, but it's never too early to get the parade started--!
craig and i will be at the baltimore comic con on october 10 and 11 and it's gonna be big fun!
we'll have copies of the all-new, hot-off-the presses PERHAPANAUTS HALLOWEEN SPOOKTACULAR!
copies of the previous issues (if you missed one along the way), the triangle trade--as well as recently uncovered copies of the two dark horse trades, first blood and second chances! we'll also have the all new perhapanauts button which we be debuting here in a few short weeks!
so mark your calendars and meet us in b'more!
you're not gonna wanna miss it!
baltimore comiccon!

~~~~~~~~~~~~~~~~~~~~~~~~~~~~~~~~~~~
i am, of course, a huge calvin and hobbes fan and as i mentioned in the blog the other day, gocomics.com does a fantastic job of making calvin--and a whole slew of other great strips--available online and delivered to your email each morning where you can pretend that you're reading it in the paper like you did the first time.
i loved this little storyline when bill watterson first presented it back in the late 80s and couldn't resist posting it here for you!
go, calvin, go!




~~~~~~~~~~~~~~~~~~~~~~~~~~~~~~~~
* correction: on wednesday i said that it was talent caldwell doing the wonder woman comic in dc's wednesday comics. in fact, it's
ben
caldwell producing that lovely strip!
sorry, ben.
~~~~~~~~~~~~~~~~~~~~~~~~~~~~~~~~
and here, just for
the hell of it--
"five for friday"
1. which u.s president coined the phrase, "walk softly, but carry a big stick"?
2. who said, "imagination is more important than knowledge"?
3. what six states comprise the region known as new england?
4. what state is known as big sky country?
5. comics creators
who created...
a. superman?
b. batman?
c. spider-man?
d. the fantastic four?
e. wonder woman?
f. wolverine?
g. impulse?
h. savage dragon?
i. after-school agent?
j. amber atoms?
have a great weekend!
smell ya later!
todd