okay...
merry christmas eve!
so rich and i were chatting last week about christmas and past christmases and where christmas came from and stuff like that and, in realizing that he was incredibly knowledgeable on the subject, i asked if he'd like to do a guest blog on it, to which he eagerly replied, "oh, man! yeah! sure!" (which is rich all the time...)
but as rich delved into this project, christmas itself swirled around him in the form of the usual shopping and decorating, as well as a sudden boatload of extra work at work--and he told me that wasn't sure he had the time and was sorry.
i told him what he had so far was great and that i was gonna post it--even though he's argued that it seems unfinished and doesn't have a definitive conclusion. i'll give him that.
but the blog is a lark and he'd already put so much time into it that i present it to you here. please don't judge rich on it's shortcomings--i whisked it away from him before he could even give it a once-over read.
thanks, rich-you're the best!
"History is written by the victors." Winston Churchill
Christmas has a very long and colorful history… even before it was "Christ's Mass" or Cristes mæsse (Old English first recorded in 1038 AD). Before we had Christmas Trees and Eggnog, we had Pagan holidays to honor the Sun and the Winter Solstice. It wasn't until around 220 that the idea of celebrating Christ's birth was entertained. Of course by that time, Christ's exact birth date had been lost to the sands of time and, to compete with all the other Pagan holidays, the Christians staked their claim on December 25th. With the spread of Christianity, and the assimilation of other cultures, Christmas became an amalgam of many of the different ethnic traditions. One of those traditions… Santa Claus.
Jolly ol' Elf or Saint, the Santa we know and love today isn't the Santa of old. In 270 AD Nicholas of Myra was born in what is modern day Turkey. From his birth he was said to have been an exceptional child, refusing nourishment on days of fasting. He was the youngest Bishop in the history of the Catholic Church. He was imprisoned by Roman Emperor Diocletain with other Christians, but was released when Constantine established the Christian Church as the official religion of Rome. He was said to have performed many miracles. One grim tale tells of a Butcher who was abducting local children and passing them off as "fresh meat". Nicholas visited, heard the story, and resurrected the children that had not been eaten. Another tale is told of a poor nobleman whose 3 daughters were about to have to turn to prostitution to survive. Again, Nicholas heard the story and snuck into the nobleman's house at night and left a purse of gold for each daughter. This may be one of the stories that leads us to Santa sneaking into our house to give us gifts.
After Nicholas's death, he became the Patron Saint of children, maidenhood, sailors, fishermen (in Greece he became a Christian version of Poseidon), merchants, pharmacists, archers, pawnbrokers, and many others. They established a Saint Nicholas Day, December 6th, a date on one side of the Celebration of Christ's birth and on the other side is a day to honor Saint Basil the Great (Basil of Caesarea), also known for his care of the poor… the Greeks called him Father Christmas, and on January 1st he was to deliver presents to children.
And so the Santa Claus soup begins. We have two Saints, both from Turkey, about a hundred years apart from each other, recognized as what we would know now as Santa. Ah, but the soup gets thicker as Christianity expands! The idea of Santa's Reindeer comes from the Norse god Odin, who led the Germanic celebration of Yule (a Winter Solstice celebration held on December 25th). Odin was said to have lead a "Wild Hunt through the sky" on his eight legged horse Sleipnir. Children would set out their boots filled with carrots, straw or sugar, near the chimney for Sleipnir to nibble on. Odin would reward the children by replacing his horse's food with gifts. This of course turned into Stockings being hung with care.
~~~~~~~~~~~~~~~~~~~~~~~~~~~~~~~
i've been receiving all sorts of great illustrations and greetings from friends and family on the internet--and they've all been wonderful--but nothing that touched my heart and gave me that spark that brian had talked about in his comments yesterday as this...
on his blog, my good friend, jm dematteis, offered the gift of a christmas story to all of his friends and i just had to pass it on. that's what you do with a wonderful gift like this...
enjoy!
http://jmdematteis.blogspot.com/
~~~~~~~~~~~~~~~~~~~~~~~~~~~~~~~~
and here, because rich's blog got me in the mood, are some old-timey, traditional santas...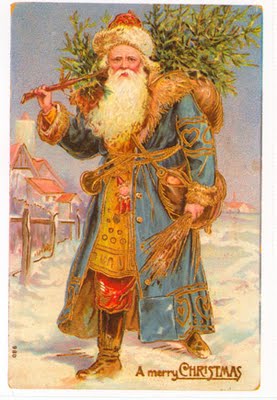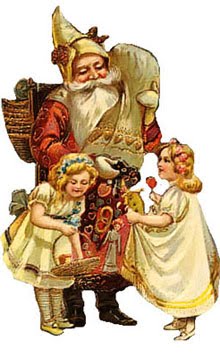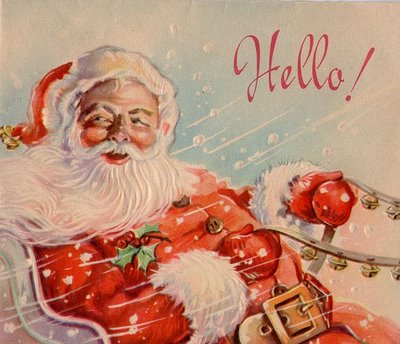 more treats tomorrow!
of a more perhapanaut-y flavor--
smell ya later!
todd