christmas card no.20--2007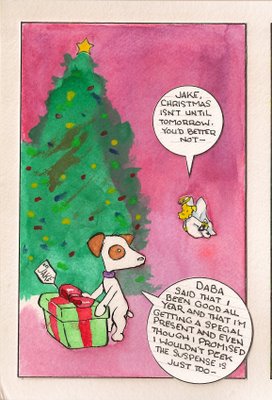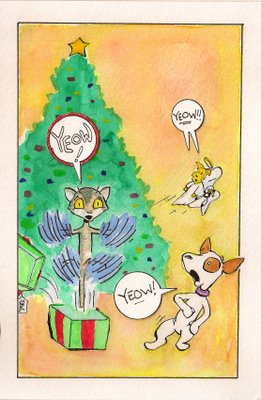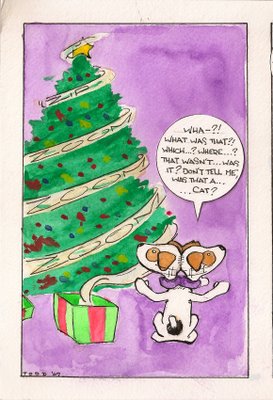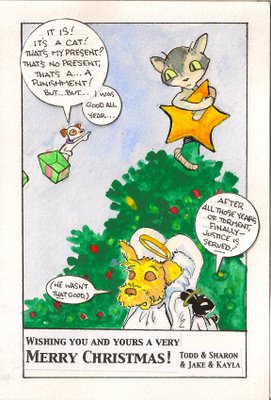 okay...
well, as you can see, sharon moved in. and kayla.
truthfully, had it been even a year earlier, i would have said that there was no way that jake could live with a cat without chasing it constantly and, when he was younger still, probably killing it. he was pretty rambunctious. but he is older now and, as i described it once without knowing what i was saying, "blind in one eye and deaf in the other." we're all getting older and that includes my little boy. so kayla has learned which is his good side and which is his bad and tends to sneak past him on the right whenever she can. but she's also become more brave in the past few months, waiting to see how close he can come before he realizes it her. as for jake, he thinks we have a ghost or a ninja--or maybe a ghost ninja--running around.
of course, while sharon's moving in had been the definite highlight of the year--2007 is not one of my favorites for obvious reasons.
(i don't wanna get too sad here, i don't wanna make matt cry.)
mike and craig and i had one of our most fun and most bonding conventions ever at heroes con that june. we were having a great time, very in synch, throwing around ideas for new characters and comics and making plans that would hopefully get tellos and the perhapanauts some more exposure and give us the time to work on some of these other projects. it felt like the beginning... and then in august, mike left us.
not cool, 2007.
he's still here though. he talks to me. and watches tv with me. and whenever they get catalina into her little 'jumping' outfit on
my name is earl
, i can hear mike going, "daaaaaaamn!" sharon and i say it with him now. he liked that catalina.
merry christmas, brother!
~~~~~~~~~~~~~~~~~~~~~~~~~~~~~~~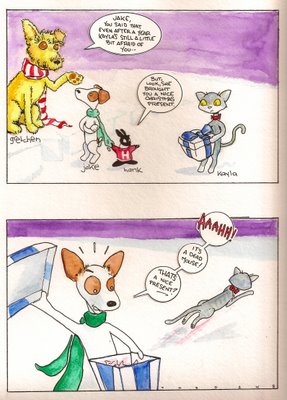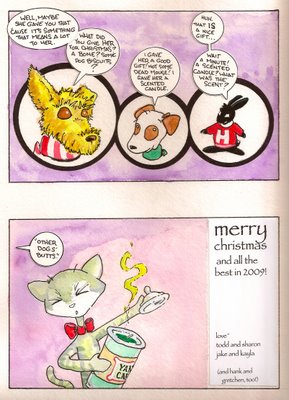 christmas card no.21--2008
well, merry christmas eve, everybody!
i came up with this little gag a couple of weeks ago, but held off on starting on it 'cause i was hoping to maybe come up with something more traditional and unique. and so, holding out, things got later and later. the cards didn't get done until friday and not in the mail until saturday. that's cutting it close.
maybe i should start next year's card in september.
going out today to get two small gifts that i need to do a little traveling for. when i was young and stupid and a bachelor, my roommate, dennis, and i had a credo that if we weren't in the mall at closing time on christmas eve, we had planned too well.
i
will
be posting some nonsense tomorrow and friday, so if you're home and bored, stop by. if not see ya on monday...
i can't tell you how nice it is to keep this blog, to get a chance to talk to all of you, to count you all as friends.
may i wish all of you the happiest of holidays--happy kwanza, happy hannukah, merry christmas. and peace and love and understanding in 2009!
smell ya later!
todd