christmas card no.16--2002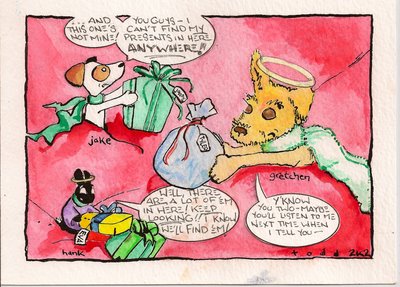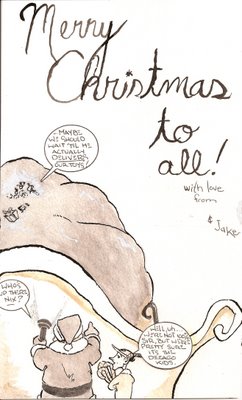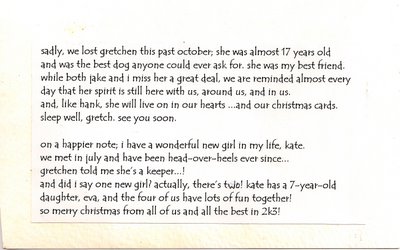 okay...
kate.
after the revelations and sadness--and, hopefully, some small amount of growth--following my split with dani the year before, the spring of 2002 had me coming out of the long, gray winter a changed man--happier, hopefully wiser, much more optimistic. life is a balance and i had been through some bad times; i was ready for the good! i was in a play, made some new friends, and through one of them met a girl--an actress in a different play--who appeared to be everything i ever dreamed of in a girl. we fell quickly and spent all our time together, along with gretchen, jake, and kate's 7 year old daughter.
i was very happy.
until october, when gretchen, who had been slowly winding down, quietly passed away one night while i was out doing a workshop at a local library. i had long dreaded the day that i would lose my closest furry friend--she was my ever-present protector, my partner, my confidant--and the thought of it made everyone around me a little nervous too. i don't think i could've made it through that without kate. she came right over. and dani did too. we cried and hugged and said goodbye to gretchen and after kate and dani left, jake slipped right into gretchen's place as my best friend and confidant. just like that. he nuzzled me and stayed closer to me from then on and as he crawled into bed with me that night, the first time ever, he gave me a look, letting me know that
he
knew that it was just the two of us now and we would stick together forever.
got the front of the card done, but ran out of time (and talent) on the inside. it was sad to put the halo on gretchen on the card, but comforting to see her right there next to hank, knowing they would be together now.
i'm sorry that so many of these cards come with some sadness too!
they're not s'posed to be. they're supposed to be merry and uplifting.
and here are your
"five for friday"
1. what was rudolph's girlfriend's name?
2. what was the name of the grinch's dog?
3. what is the original title of "the night before christmas?"
4. what was the rabbit's name in "frosty the snowman?"
5. who recorded a duet of "peace on earth/little drummer boy" with david bowie?
6. on "miracle on 34th street," what store was kris kringle hired to play santa in?
7. and what store was their direct competition?
8. who is the only female member of santa's reindeer team?
9. according to the animated classic "santa claus is coming to town," what is the first name of mrs. claus?
10. what's the best christmas present you ever got?
have a merry day!
spread some season's greetings!
smell ya later!
todd