christmas card no.17--2003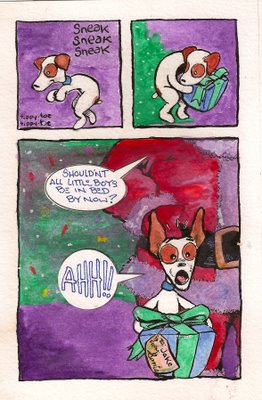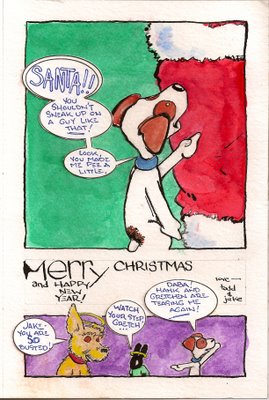 okay...
(for those of you yelling "T.M.I.!" regarding my maybe too revealing annotations here, you can skip this next part...)
so to make a very long and very sad story short, things did not work out with kate.
though i was head over heels with her--and she with me--karma does this funny thing now and then.
after all my years of letting my fear of commitment control me and rule my life, i finally felt that i had grown and was ready for a
real
relationship and be able to give myself to it completely.
kate however...you can say it with me...had this incredible fear of commitment. and a fear of abandonment.
and so she pushed me away. and i was sad again. really, really sad.
but i had jake.
and, though this is sad too, my brother and his wife split up and he came and moved in with me. it was great having jeff around and we grew closer than we had been, being there for friendship and moral support in our respective breakups/heartaches. the other great part of that was that he (we) got his two kids every other weekend and i got to have fun with them a lot more than i would have otherwise. both of them are great kids and i've grown very close with each of them in very different ways.
as for the card--after looking over all my previous cards and other artwork, i was trying to be a little less stiff with the kids in this one, trying to make things a little more organic and more fluid. in these first two panels, jake, trying to be stealthy and sneak like a snake, looks a little too cartoon-y, too amorphous. it was a neat experiment, but not really my style. maybe i'll try going back to it again sometime and should i find more time to draw in the future.
and here are
the answers to
your double-dip
"five for friday"
1. what was rudolph's girlfriend's name?
clarice
2. what was the name of the grinch's dog?
max
3. what is the original title of "the night before christmas?"
"a visit from st. nicholas"
4. what was the rabbit's name in "frosty the snowman?"
hocus pocus
5. who recorded a duet of "peace on earth/little drummer boy" with david bowie?
bing crosby
6. on "miracle on 34th street," what store was kris kringle hired to play santa in?
macy's
7. and what store was their direct competition?
gimbel's
8. who is the only female member of santa's reindeer team?
vixen
9. according to the animated classic "santa claus is coming to town," what is the first name of mrs. claus?
jessica
10. what's the best christmas present you ever got?
?
have a holly jolly weekend!
smell ya later!
todd