okay...
between the post-christmas food coma sharon and i (and jake) slipped into last night and the fact that blogger wouldn't let me load any of the following pictures, this is being posted late in the day. sorry, gang.
hope you all had a wonderful christmas/holiday with your family and friends and that today you can relax and enjoy the company and the wonder that the season brings.
now that you know them, i thought i'd post a few more pictures of the kids, a couple sketches that i had laying around.
hope ya dig 'em...
this is a very early, very rough sketch of hank and gretchen that i did at work one day with a ballpoint pen. it must've been done a short time after we got hank. nicole and i used to joke that the two of them would want to steal the car for a short road trip so that they could drive through the drive through at mcdonald's over and over again.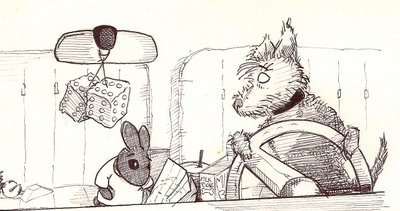 i don't know where this came from. this was pre-93, before we got jake, but i don't know how it happened. i sat down and started drawing and soon it was a picture of gretchen from behind looking up. then the fridge, then the food, then hank. just sorta stream of pencilness.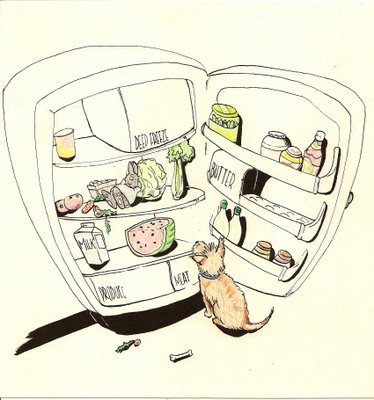 sometime during my skydiving days, 95-96, i did this birthday card for my good friend, jim waterhouse, who was crazy for it and never had to talk me into it--i was always keen to go--but definitely got me involved.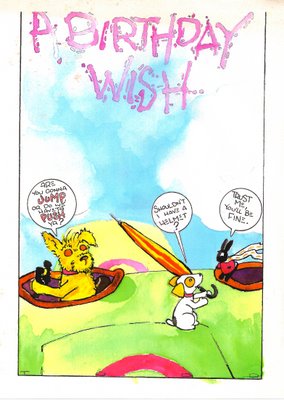 and here, from 2005--at mike's request--i did this pic for a katrina relief sketchbook.
so very out of my league.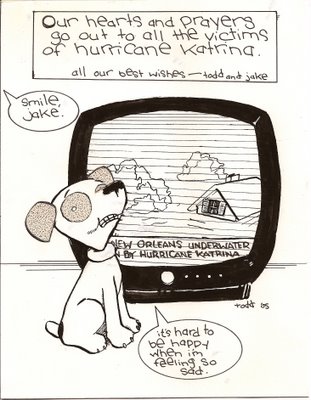 merry day after christmas!
smell ya later!
todd