christmas card no.1--1987
"santa and his eight tiny rein-pigs"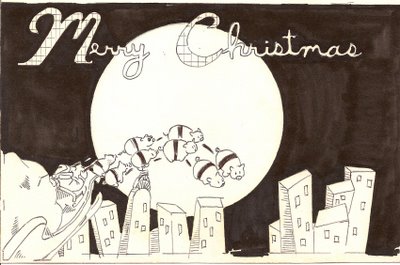 okay...
well, i hope you all had a wonderful thanksgiving and a relaxing long weekend. it's december, the holiday season is well underway, this is perhapablog no.501, and, as promised, and as you can see above, i will be posting my christmas cards of the past...god!, twenty years or so between now and christmas! since they go so far back (and since i said i'd post them ALL--even the ones that make me cringe...which is most...), i will be posting them
daily.
so thank you in advance for your patience...
they
do
get better.
~~~~~~~~~~~~~~~~~~~~~~~~~~~~~~~~~
on a very sad note;
we lost a friend and a great artist the other day when artist/sculptor andrew wiernicki lost a long battle with pancreatic cancer. andrew, as you'll recall, sculpted the fantastic choopie sculpt that craig commissioned from him a year or so back. i only met him once, but andrew was a really nice guy and a very talented artist. he will be missed.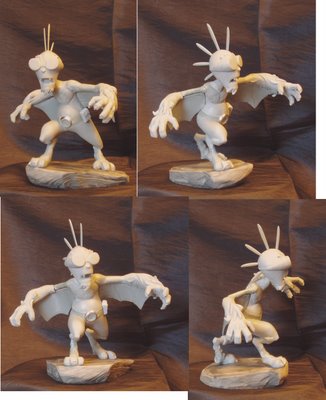 ~~~~~~~~~~~~~~~~~~~~~~~~~~~~~~~~~~
well, you all know kelly.
our pal, kelly yates, after years of working on this wonderful book, his labor of love, AMBER ATOMS, is finally getting ready for the big unveiling! a four-issue miniseries that kelly has been pouring all his free time into over the last few years, AMBER will hit the stands in february and you are not gonna wanna miss it! it's in the latest PREVIEWS in the IMAGE COMICS section, under "A"...so be sure to let your local comic store owner know that you're gonna want that!
and for a little preview of our own, here are a few pages of some super solid amber atoms action!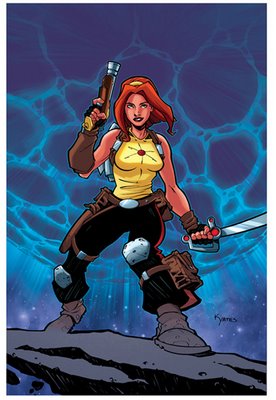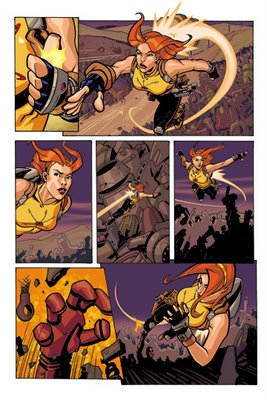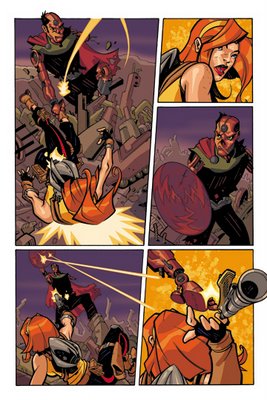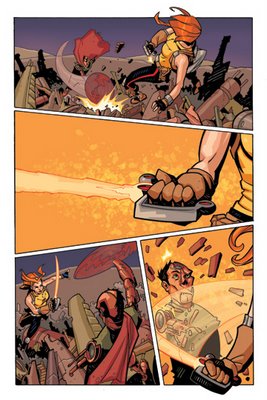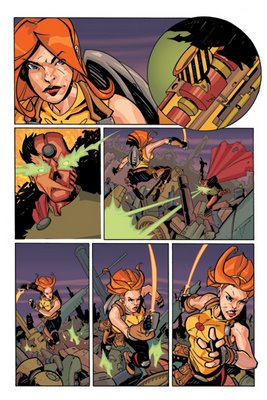 congratulations, kelly!
can't wait to see it!
~~~~~~~~~~~~~~~~~~~~~~~~~~~~~~~~
here are the answers
to the
"five for friday"
men of letters
sure we remember chris claremont, john byrne, and terry austin on the classic x-men, but what award-winning letterer made that title look so crisp? it's all about giving a little thanks for those unsung heroes of the balloons and fonts--the letterers!
1. who was the letterer on byrne and claremont's uncanny x-men?
tom orzechowski
2. on walt simonson's thor?
john workman
3. on the sandman?
todd klein
4. on dave sim's cerebus?
dave sim
5. what is the art of (hand) lettering called?
calligraphy
bonus: name three other comic book letterers with distinctive styles.
chris eliopolis, richard starkings, roxanne starr, artie simek, nate piekos, joe rosen
smell ya later!
todd