christmas card no.18--2004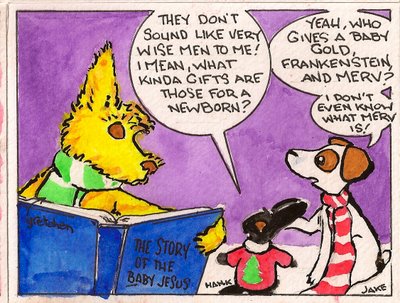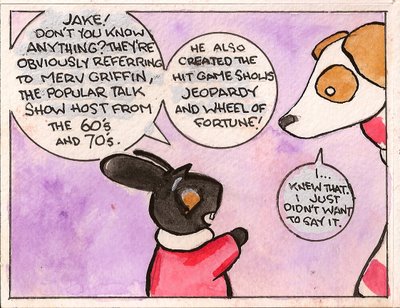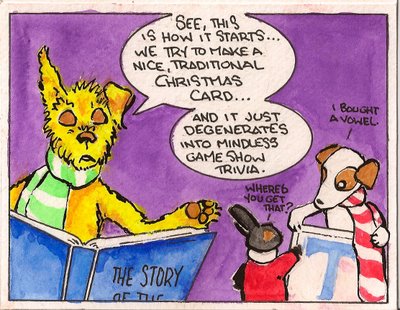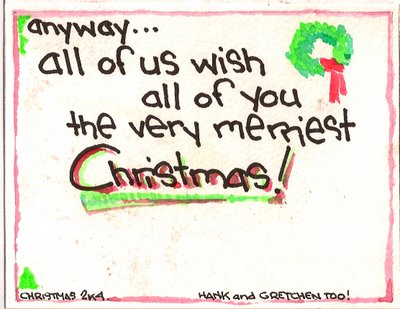 okay...
so, 2004 was a fairly quiet year...i guess. i mean, i'm sure that there were all SORTS of crazy things going on, but nonesomuch that they ended up having any real affect on the card.
not a lot of comic book work that year--some marvel age stuff, the precursor to the marvel adventures line--with some marvel age spider-mans and the marvel age team-ups. craig and i had actually started getting the perhapanauts together in late 2002, and had published our little ashcan--the perhapanauts: dossier--CLASSIFIED!--the previous year, but 2004 was when we printed up our perhapanauts not gigantic color special #1 (on newsprint!), so we were having fun with our gang already!
i was also working a lot with my good pal and (incredibly talented) carpenter jeff mccluskey making furniture and doing some light construction and life was very, very good!
after living together for about a year and a half, my brother--also jeff--(and this is funny; both named jeff, both born on halloween, both have sons named tyler...weird)--anyway, jeff bought a house of his own and it was just me and jake again. which was great. usually home all day, when i would come home from working with jeff in the shop, jake and i would go out and run and play for hours. good times...
so this year's card was all about being silly, letting the kids just go on with one of their silly conversations. i did each panel actual size--4 1/4 x 5 1/2--and it was a little small...but that's how ya learn, right? there's not as much blending and layering of the watercolors, things are very flat and basic.
NOTE: due to the ice storm a week or so ago that took me out for a day and my inability to actually count, i'm going to be doubling up on cards tomorrow and wednesday so that you get this year's christmas card posted on christmas eve.
hope that's cool with everybody...!
until then, be merry!
smell ya later!
todd